Biography
Edit
Arun is the younger brother of Tiama, and a Wayist, following the teachings of Brother Thaddeus Blake. When Dylan Hunt and Rev Bem come to the Hajira community on Serendipity, Arun is fascinated to meet a fellow Wayist who is of the same species as "The Anointed". Possessed of the genetic memory of his people, Arun has access to generations of recollections, and when his sister sacrifices herself to create the Magog Hajira who can protect their people from the slavers, Arun undertakes to teach them the Way.
Arun is played by Darrin Klimek.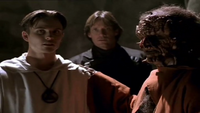 Ad blocker interference detected!
Wikia is a free-to-use site that makes money from advertising. We have a modified experience for viewers using ad blockers

Wikia is not accessible if you've made further modifications. Remove the custom ad blocker rule(s) and the page will load as expected.