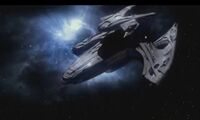 "Better talk, if you wanna walk, hear the clock, tic-tock"--Bodey Gunyon
Biography
Edit
Bodey Gunyon is an intersystems gangster and crime lord whose power is capable of purchasing and operating his very own retrofitted Systems Commonwealth starship turned prison drift, the Typhoon.
Ad blocker interference detected!
Wikia is a free-to-use site that makes money from advertising. We have a modified experience for viewers using ad blockers

Wikia is not accessible if you've made further modifications. Remove the custom ad blocker rule(s) and the page will load as expected.