Dyhedra III
Location:
Milky Way Galaxy
Diameter:
10,800 km
Climate:
Tropical
Societal information
Species:
None
Population:
N/A




Events:
Destroyed by a Nova Bomb
Technical information
Defenses:
Magog Swarm Ships
Water coverage: 51%
Dyhedra III was once famous throughout Known Space as a resort destination for tourists from every conceivable destination. The Nietzschean Rebellion largely bypassed the Dyhedra system, but inhabitants didn't fare as well afterward. In CY 9811, the Dyhedra system was seized by the Magog and the entire population murdered or driven off-world. The Magog continued to use the planet as a breeding world and base of operations for raiding neighboring systems until CY 10087, when the inhabitants of a nearby space station (High Guard Station GS-92196) obtained a Nova bomb and obliterated the entire system.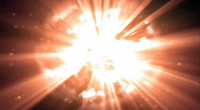 Ad blocker interference detected!
Wikia is a free-to-use site that makes money from advertising. We have a modified experience for viewers using ad blockers

Wikia is not accessible if you've made further modifications. Remove the custom ad blocker rule(s) and the page will load as expected.