Henry Theocrattus Wezlow was Beka Valentine's caretaker, as well as a True Collector. He lived on the Eureka Maru with his wife Nema when Beka was a child. Since as long as Beka can remember, Wezlow had taken care of her in absence of her father. Nema was killed by a Nietzschean agent of the Spirit of the Abyss, who was sent to acquire a bell known as the Voice of Darkness, capable of distracting the Abyss. Wezlow avenged his wife by killing the Nietzschean. Sometime later, he gave Beka a Clarinthian angel doll, with the bell secretly attached. He left soon after that.
Years later, disguised as a Wayist, Wezlow came back to the Maru, looking for the doll but is killed by agents of the Abyss. Dylan Hunt identifies his True Collector identity. Wezlow left behind a flexi to direct the Andromeda to the True Collectors library and had hidden clues in the archive to show Beka how to use the bell.
A theocrat, from the Ancient Greek, means one ruling as the representative or even avatar of a god, in a situation like that of Ancient Egypt, where the pharoahs were seen as divine.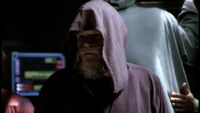 Ad blocker interference detected!
Wikia is a free-to-use site that makes money from advertising. We have a modified experience for viewers using ad blockers

Wikia is not accessible if you've made further modifications. Remove the custom ad blocker rule(s) and the page will load as expected.