Hildegard is a small pleasure craft nicknamed Hildie, piloted by Molly Noguchi, and intended to take tourists on day trips around solar systems. Its class is unknown and is only refereed to as tourist barge. However, it is a relatively new design, and was in all likelihood designed after the fall of the Systems Commonwealth because of its extremely sleek design as well as its compact size. It is a very tough ship, and was pursued all over space by Ogami fighters. Although its Slipstream drive was damaged, it was still very fast and easily repaired when the proper parts were acquired. However, it was destroyed in the chase and in order to repay Molly, a captain on her first tour rotation in the vessel, for the loss of her job, Captain Hunt wrote her a letter of recommendation for the High Guard. She was accepted, and became an officer.
It has 3 engines, all of which are very powerful. It also has very good, small but strong ion maneuvering thrusters.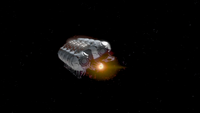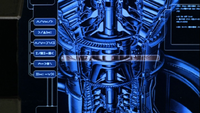 Ad blocker interference detected!
Wikia is a free-to-use site that makes money from advertising. We have a modified experience for viewers using ad blockers

Wikia is not accessible if you've made further modifications. Remove the custom ad blocker rule(s) and the page will load as expected.