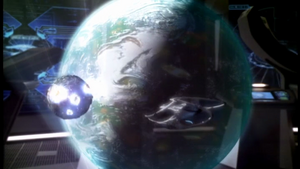 Phrynia is a planet off the main trade and Slipstream routes which makes its way in the universe by a badly-hidden line in smuggling and weapons of war. Its self-professed "absolute ruler" Viceroy Moldar, showed most of the signs of megalomania, writ large on a relatively small body, and believed himself to be beyond reprimand, or anything else, by the rest of the universe. The pure power of the Andromeda Ascendant, and the fact that it was all in Dylan Hunt's hands, was thus a very bitter pill for him to swallow. Phyrnia's trade in Biological Armor was cut off when the crew of the Andromeda impounded his stolen goods and literally froze his supplier, Cavava. Sadly, the history of the planet would suggest that they found another source of violence-related income in short order. ("The Spider's Stratagem")
Ad blocker interference detected!
Wikia is a free-to-use site that makes money from advertising. We have a modified experience for viewers using ad blockers

Wikia is not accessible if you've made further modifications. Remove the custom ad blocker rule(s) and the page will load as expected.