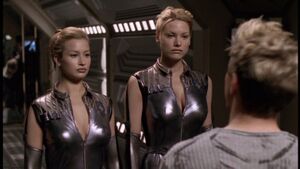 Ron-Dai and Ti-Ki
Biography
Edit
Ti-Ki and Ron-Dai were sent to the Andromeda to supervise renovation efforts.
Twin sisters Ti-Ki and Ron-Dai played by actresses Melissa Barker-Sauer and Gianna Patton.
It seems at least possible that these names were chosen as an oblique homage to Twiki from the 1970s-80s "Buck Rogers" series, and R2-D2 of "Star Wars" fame.