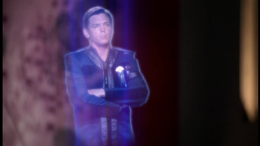 The Security Coded Communication System is a Systems Commonwealth communication system enabled by a limited Artificial Intelligence, which is updated every several weeks by a transmission, in order to keep it up to date.
They are devices that allow a user to take advantage of artificial intelligence technology, in order to have a limited, but realistic conversation, as if they were talking to that person in the flesh. They are extremely useful as military tools, because of their obvious application for officers to consult their superiors about orders. Dylan Hunt has one in his quarters that he uses to communicate with the Triumvirate. ("Waking The Tyrant's Device")
Ad blocker interference detected!
Wikia is a free-to-use site that makes money from advertising. We have a modified experience for viewers using ad blockers

Wikia is not accessible if you've made further modifications. Remove the custom ad blocker rule(s) and the page will load as expected.