Skeevara X is an obscure Drift located within an asteroid field. Dylan Hunt and Elssbett Mossadim-Bolivar went there to get the Eureka Maru repaired after a Monomolecular lash caused a hull breach. It is a corrupt place, with customs officers who are easily bribed and informers for Nietzschean Prides all over the drift.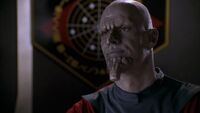 Ad blocker interference detected!
Wikia is a free-to-use site that makes money from advertising. We have a modified experience for viewers using ad blockers

Wikia is not accessible if you've made further modifications. Remove the custom ad blocker rule(s) and the page will load as expected.