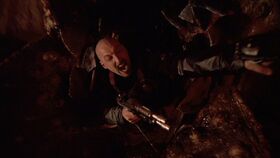 Squorms are genetically engineered animals adapted for mining that are based on worms. Squorms eat ore, and then excrete the metal in almost pure form. They are very useful on mining planets, and they can grow up to several dozen meters long. ("Exit Strategies")
Ad blocker interference detected!
Wikia is a free-to-use site that makes money from advertising. We have a modified experience for viewers using ad blockers

Wikia is not accessible if you've made further modifications. Remove the custom ad blocker rule(s) and the page will load as expected.