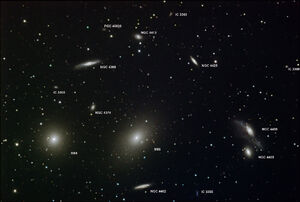 The Virgo Cluster is a galaxy cluster briefly mentioned as a location opposite the Local Group by Rommie. It was apparently one of the far off places mapped by the Nietzschean Slipscout "Deep Midnights Voice".
As seen from Earth, the Virgo Cluster can be found within the constellation of Virgo.
Ad blocker interference detected!
Wikia is a free-to-use site that makes money from advertising. We have a modified experience for viewers using ad blockers

Wikia is not accessible if you've made further modifications. Remove the custom ad blocker rule(s) and the page will load as expected.