Xinti
Location:
Milky Way Galaxy
Perseus Arm
Diameter:
9,700 km
Climate:
Temperate to sub-arctic
Societal information
Species:
99% Perseid
1% miscellaneous
Population:
237 million



Xinti was once a center of learning and research during the Commonwealth era, but suffered greatly from Nietzschean plundering, Magog raids, and other misfortunes. Its resilient inhabitants have managed to preserve and even advance scientific knowledge in the face of overwhelming odds. Now Xinti is home to one of the few remaining off-world Perseid settlements as well as the first signatory to the restored Systems Commonwealth charter.
It is only seen in "Ouroboros", but it is mentioned in several episodes due to being one of the centers of the Commonwealth bureaucracy.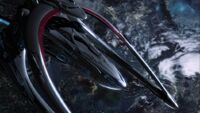 Ad blocker interference detected!
Wikia is a free-to-use site that makes money from advertising. We have a modified experience for viewers using ad blockers

Wikia is not accessible if you've made further modifications. Remove the custom ad blocker rule(s) and the page will load as expected.